Spring is my favourite time of year (although Autumn is a very close second), and today, I am officially declaring it is spring in the bloomeenee household, because there are Narcissi in my garden*!
*I say my garden, its strictly neither garden nor mine, but 'bit of wasteland which I occasionally chuck seeds at in vain attempts to cheer it up' takes too long to type...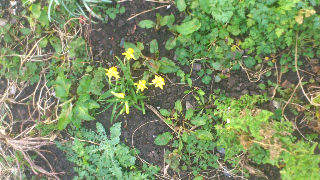 This bit of colour has revived me slightly where the garden is concerned. Round about October, I lost all heart for it: so much was still weeds, I'd gotten the most pathetic potato crop imaginable, and then to top it all off I went out one morning to discover that someone had stolen all my flowers. I gave up at that point and haven't touched it since, getting further disheartened when the fence got knocked down... So I don't know what the future is for the garden itself, but I will continue with my containers in the yard, and it must be almost time to start on those! Does anyone know when I should plant marigolds?